Like To Get To Know You Well...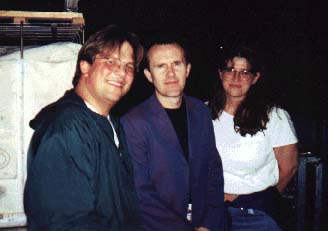 Todd with old friend and Running Late fan, Sal, paid a visit to Howard Jones after his portion of the "Big Rewind Tour" at Blossom.
The fantastic tour also included The Human League and Culture Club.
Howard mentioned that he'd like to do a reggae album someday. (Todd said GO FOR IT!)
Mr. Jones was later a guest on RL, ahead of his acoustic set at The Winchester, some 9 years later (Jan 12th, 2007).

(L-R) Todd, Howard Jones, Sal. (8/9/98)




Back to Photo Gallery #2
WBWC, Running Late, and Baldwin-Wallace College
are not responsible for claims made by the advertisers on this web page.