"...Gotta keep on pushin' Mama
'Cause you know they're runnin' late..."
"Long Train Runnin'"
-The Doobie Brothers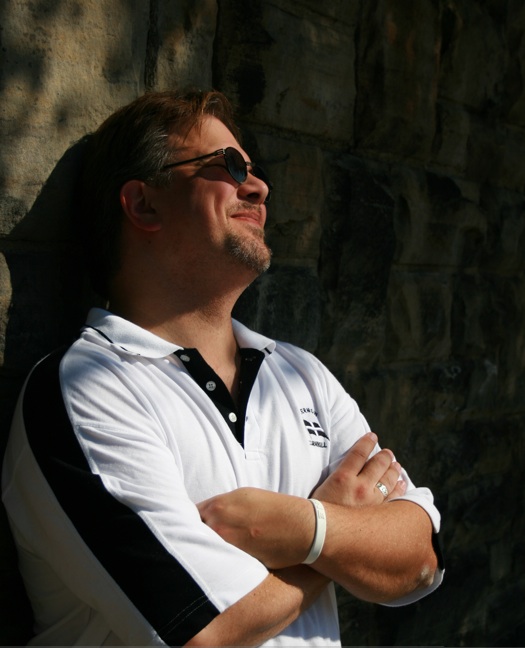 Todd has always enjoyed music and the performing arts. Growing up in Western Pennsylvania, Todd took after his parents and older sisters, who introduced him to the theater, piano, singing and of course, rock and roll. Living in Greater Pittsburgh, Erie, and finally Franklin Pa., Todd can name distinct parts of his past that make him up today. "I remember a lot of the earlier days, where I was in a more urban environment. I remember the whole feel of the city that was Erie in the late 1970s. (My how things have changed!) Then moving to small-town Franklin in 1983 was a bit of culture shock, especially for someone as young as I was then. To my surprise though, I was able to adapt, and appreciate the small town rural life very much. Those things are reflected in the music I sing, and the music I play on the air."

In high school Todd became a participant in the low-power, cable-only station WFHS 88.5FM. "This was my first real try at broadcasting, although I had been making mix tapes of myself and recorded songs from the radio since living in Erie. I was amazed at how easy it was to take the 'performance' part of theater and apply it to radio." The block programing station also was the first time Todd had ever tried morning drive. "My show was only 55 minutes long, 3 days a week, and the middle day was a required format of Big Band music. Imagine a 16 year old kid in the late 1980's playing big band music, trying to sound knowledgeable, and interested! That was a tough one. Kudos to Mr. Roland Davis for giving me that challenge!" At the same time Todd also did some work for the low-power regional TV station WO5AY. "To be honest, I think they were desperate to have ANYONE from the high school do it...and my name came up. I was paid per-show, doing play-by-play for Franklin High's Girls Volleyball team. It was a great time, until I was too busy explaining to the viewers what they saw on-screen to notice the spiked ball headed right for the announcer table....ouch. It was a fun hobby - all that I thought of it at the time- and it was my first paying broadcasting gig!"

"...Wanna change Forgot the joke
It's great to see you I'm Running Late..."
"Guns In The Sky"
- INXS

After high school graduation, Todd headed to Baldwin-Wallace College in Berea, Ohio to study theater - but ended up changing his major to Speech Communication/Broadcasting. "I felt a little out of my league in the theater courses, having only summer stock and high school training. However, few people came to WBWC with previous radio and TV experience as I had from my days at WFHS. So I easily gravitated to the station as my reason for studying at BWC. Of course, at that point I had no idea what I was in for."

In four years at BW Todd managed to balance a full course-load, manage the on-campus activities center, and do the morning drive radio show five days a week! "I think the first thing I did after graduation was sleep for a week" Todd says.

The Student Activities Center (SAC) job came to Todd because of his persistence. "He just kept coming back" Mike Lowell, original SAC Student Manager and long-time friend to Todd. " He and I were actually competitors on the campus DJ scene, but he wouldn't let that stand in the way of him taking on this challenge." "I wanted to belong somewhere on campus", says Todd, "and this filled the need of my musical aspirations, as well as my theater background. I handed a mix tape I had made for my old bandmates in high school to Ralph Carapellotti, the administrator of the SAC and Student Union. I think I was the only one to actually provide a demo tape.... whether he listened to the tape or not I don't know. But I came to the one training session, and all the people there never came back, except me. That started a 3 1/2 year run of working there. Eventually Mike and I became the student managers, the mainstay DJs, and student programmers as well. I miss doing that work, to this day."

WBWC 88.3FM was Todd's other "home" on campus. "My student years at WBWC continue to amaze me. The number of fantastic people involved in the station at that time was mindboggling. Prof. Connie Allen has my utmost respect for the way she managed to keep all those people active and interested. That had to be a tough job." It was Prof. Allen that finally got Todd on the air at WBWC. "I didn't actually get on the air till the fall of my Sophomore year, because I was too afraid to re-edit my demo tape, which had FAILED the first time the year before.. Connie finally caught me in the office and told me to get off my duff and do it."


That eventually led to a multitude of shows that Todd was involved in....The Renaissance Radio format, Mini-Marathons, Leave It To The Beav, Flashpoint, Newspulse, Shades Of Blues, The Summer Marathon Series, the list goes on and on. But It was AMOK In The Morning though that became the calling card for Todd, and his longtime friend Brian Giese. "Brian and I meeting didn't have to happen, so I think it was fate. The fact that he and I would be involved in the same class project together (along with fellow WBWC stalwart Matt Slys) was a fluke at best. That fluke however did provide the opportunity for Bri and I to interact. Once we'd started working on ideas together, it was obvious we were on the same wavelength (pardon the pun) We couldn't wait to take them to the airwaves." Within a year, Brian and Todd merged their collective 3 mornings of AMOK and started restructuring the show. The instinctive and instructive way that they did it led to great success. At the peak of their time on the program 11 staff members were actively involved, and the program had developed into a daily three-and-a-half-hour show. Three years of AMOK in the Morning brought in many awards, and the experience level of a small market radio job.

Beyond college grad, Todd landed his first professional gig in the radio industry at Elyria's AM930 WEOL, under the guidance of the late Mike Whitmore, the programming director and morning show host there. "Mike showed me that the 'show' was really more about the listeners than about the host. That's something a lot of radio personalities got away from recently." Todd adds, "Mike saw the dedication and determination for the craft in me, even if I didn't. I'm glad he was the first PD I ever had to work for." Also at this time, Todd had his first taste of radio producing duties thanks to the late BJ Hart at Smooth Jazz WNWV 107.3 The Wave. "Working with BJ was a truly educational experience" Todd says. "Not only did I learn about another genre of music through him, but I also discovered the positive effect of a good interview by his style and skill. BJ passed away in 1995, and I think about him and his style often."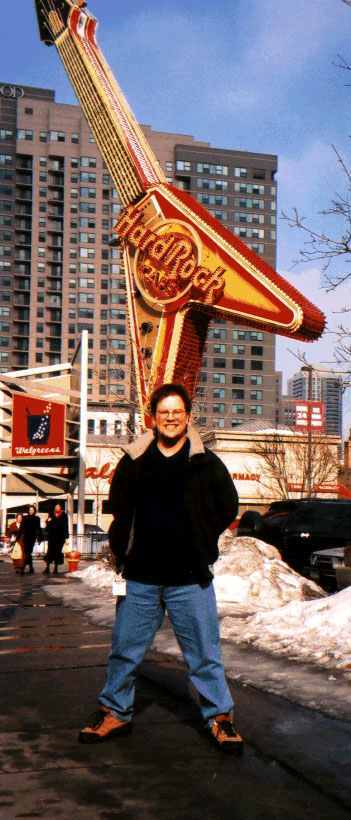 Todd was to take on a new task at WWWE 1100AM in the fall of 1994. "I was still in touch with a lot of my broadcasting classmates from BW, and we all felt the thing to do was go bigger and bigger in market size - so when a clear-channel signal station like 1100 comes along - you take it." After a few months of overnight board-oping and weekend help, Todd was spinning the dials for "Mornings With Meyer" with host Chuck Meyer (also a native Pennsylvanian), TV 3 sports guy Chuck Galetti (BW Grad!) and producer Sal Meehan. "It was so great to be back in morning drive - the whole process of presenting people with what their day is going to be, fascinating. Chuck, Chuck and Sal are great people - second to none. A great two years in my professional life. We covered everything from the OJ Trial, The Oklahoma City Bombing to Art Model moving the original Browns." A goal of sorts was reached for Todd at this point: "Brian had done a short stint ahead of me on Mornings With Meyer. Later on I was running the show from the studios, and Chuck and co. were on location at Ruthie & Moe's in downtown. Who shows up for breakfast, but Brian - so Chuck put him on, had me turn my mic on - and Todd & Brian were on morning drive at 50,000 watts - at 24 years old!...ok, it was only for 20 seconds - but it felt great!"

Todd also remembers a truly unique, yet sad moment in that run: "The cold wet day we lost contact with the Metro Traffic Plane. Then we couldn't find the plane, then we realized the plane had gone down, killing everyone aboard. In broadcasting instruction - you learn that the wheels never stop- there's always something going on. Honestly - I felt everything come to a halt right there and then."

At this time, Todd was also back at WBWC as the Alumni Production Consultant and Technical Instructor and also at The Cleveland Radio Reading Service (CRRS) as a part-time board op. "Both these experiences provided a lot of instruction to me. I learned a great deal about building professional relationships, and how to instill pride and passion into people about their work. Both were great opportunities for brainstorming, and following up on good ideas."

In 1996 Todd crossed over to television, starting a production position at the newly formed Channel 19 WOIO/Channel 43 WUAB LMA. "How do I always end up in these odd situations? Here were two former competitors now housed and functioning as one entity. I wish I would have taken more notes, that experience would have made a great book." Todd now functions as a news crew member at 19/43. "The intensity is a lot like what it was for morning drive in radio, but the actual production is much more - dare I say it? - theatrical."

In 1997, and on to 1999, Todd reunited with his AMOK In The Morning host Brian Giese for a new late night show "Running Late". "We talked of a new show for years, having done occasional guest appearances for special WBWC events. So when we finally said 'lets do this', we figured we'd go for one school term, about 10-15 weeks of work. Fortunately we stayed on for 106 shows, just over two years of work." That run of "Running Late' ended in December of 1999: "Brian wanted to do other things, and I was excited by the prospect of a few new challenges, with the dawn of the new century coming up, it was a good time to go."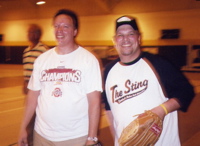 "...When my time has come, Babe
I won't be running late..."
"Harleys & Indians (Riders In The Sky)"
- Roxette

In 2000, Todd continued some production work at WBWC, including five (!) marathons for the Summer Marathon Series that year. Fleetwood MAX 2000 featured four exclusive guitarist interviews from Fleetwood Mac's family tree (Billy Burnette, Rick Vito, Bob Welch, and Bob Weston). "Any time I'm offered the chance to co-host a show with Tom LaMoreaux, like The Fleetwood Mac Marathon", Todd says, "I go for it. It's always great." EurythMix featured the Eurythmics reunion album "Peace", along with dozens of rare tracks, b-sides and recent live recordings. The return of the Talking Heads Marathon, with help from Jim 'Prof. J' Molesky'93, featured the newly remastered "Stop Making Sense" CD, VHS and DVD (a precursor to the band's induction to the Rock And Roll Hall Of Fame in 2002!) A sequel from Todd and Jim was The Steely Dan Marathon celebrating the release of "Two Against Nature"- the first studio album from the band in almost 20 years, and the band's 2VN Tour stop at Blossom later that month. Todd also co-hosted Some Sweet Day Y2K - The Simple Minds Marathon featuring a live phone interview with lead singer Jim Kerr. A year later, Todd was back in the marathon host-chair with new collaborator Mary Cipriani for Beautiful Day 2001: The U2 Marathon the first marathon at WBWC's increased wattage, the same day as the band's Elevation Tour came to Cleveland (for more on Todd's continuing work on the WBWC Summer Marathon Series click here.)

Constant questions from listeners, and continued interest in Running Late via the continual running web site led to the creation of a "Best Of" CD, featuring highlights from the whole scope of 106 original shows. "'Out Of The Running' took almost 6 months to create, and that time kept Brian and I in the WBWC universe. So even then the seeds of another show were set". Thus, in the fall of 2001, Todd again joined his Running Late team for another stretch on WBWC. When the music is great, our ideas are great, and we have great listeners. Why not?" The show passed the 500th episode mark, and in 2017 closes in on 20 years of work on the program, continuing on.

Running Late has allowed Todd to also participate in the music world, outside of the studio. Todd was a finalist in the 2002 Achievement In Radio (A.I.R.) Awards sponsored by the March Of Dimes for his promotion work on that years' Simple Minds Marathon. In 2003, Todd was able to donate several artifacts to the Rock And Roll Hall Of Fame and Museum for their exhibit In The Name Of Love: Two Decades Of U2. Todd returned to the Rock Hall later that year for the broadcast of U2003: The U2 Marathon, live from The Alan Freed Studios there, kicking off the U2 Fan Celebration weekend.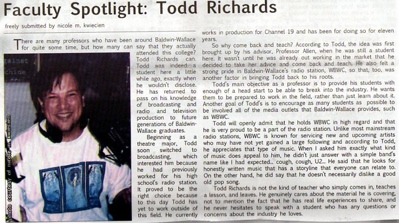 ...I'm running late,
And I dont need an excuse,
'cause I'm wearing my brand new shoes...
"New Shoes"
-Paulo Nutini

The fall of 2003 saw Todd return to the classroom, as a Adjunct Lecturer for various Broacasting courses at his alma matta Baldwin-Wallace College. "To see the same excitement I had getting into this field from the students I now teach - it's most rewarding. In fact, I think I'm learning as much as I am teaching!"



Todd's production and on-air work gave him another opprotunity in the spring of 2005, when he signed on to help with The Moonlight Groove Hightway. A Cleveland-based satillite production recorded at the Rock And Roll Hall Of Fame. "I felt very lucky to have been working with some of radio's best on the MGH. The talent pool was just amazing - Ted Alexander, Raechel Donahue, Ravenna Miceli, Gavin Scott, Dusty Street, Ben Fong-Torres, Paul "Lobster" Wells... how do you beat that?... And to work on a show based at the Rock Hall is always a true honor! MGH was a great idea in a radio-world where things get more and more robotic and 'cost-saving' "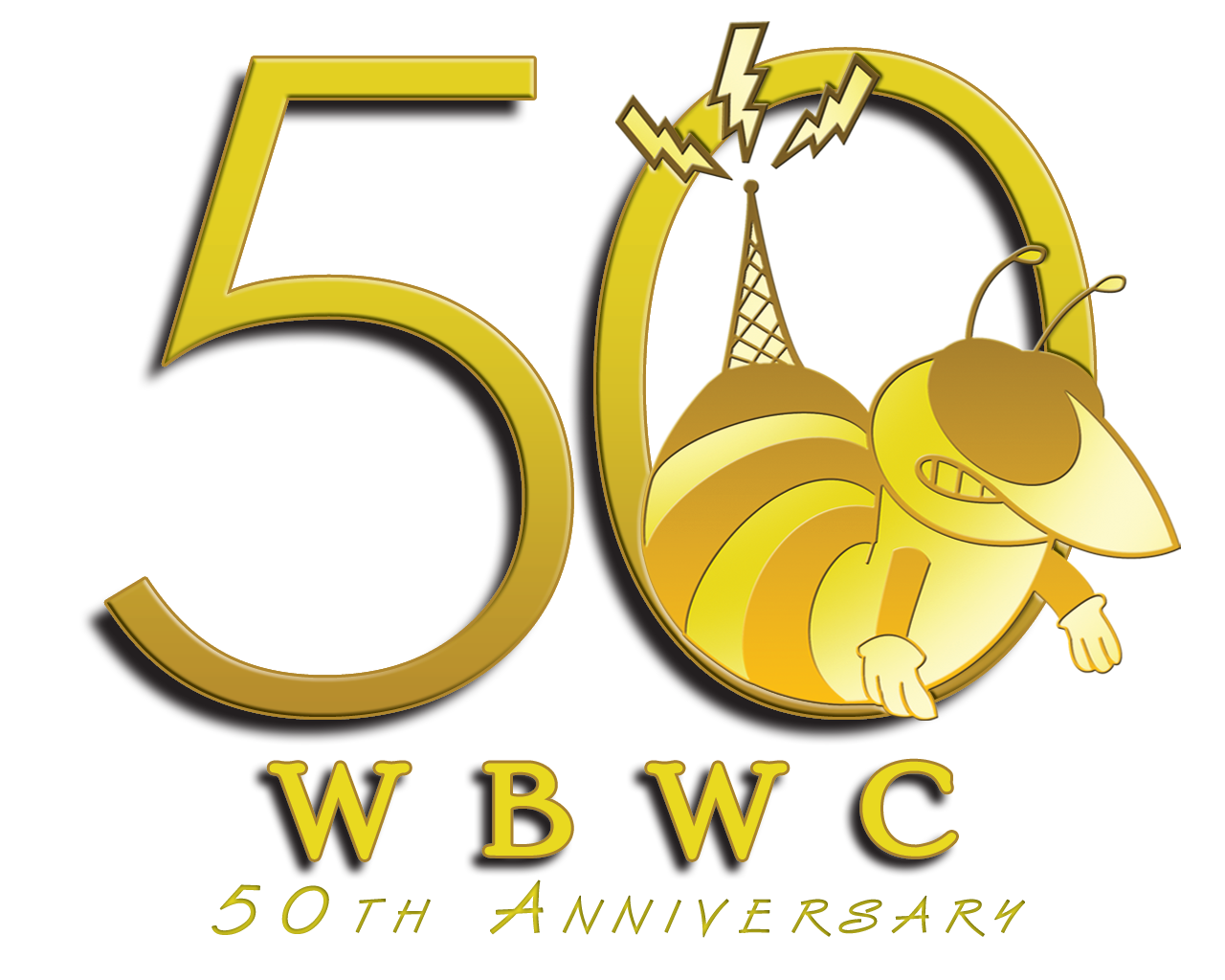 In 2008 and 2013 respectively, Todd was thilled to be a part of WBWC's 50th and 55th Anniversary Celebrations. "It's an honor to be associated with such a wonderful group of people, past and present. To be reunited with many, and meet many more for the first time was a great joy. Best of all was hearing the stories from the people that were there, and despite the improvements of technology, how similar their radio experiences were to those of my own and my students."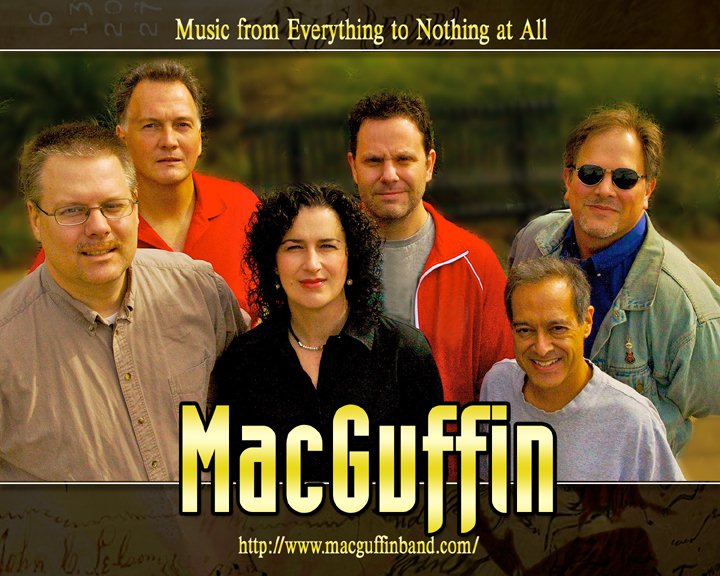 The following year, almost by accident, Todd found himself returning to another stage in his life - the concert stage with bandmates old and new. "In 2009 I got a phone call out of the blue to do a gig with some old friends, and we had so much fun playing music together again that we just kept going for a full year. It was fun, and really a whole new experience since we'd all become better musicians and, I'll admit, had grown up a bit!"

The summer of 2014 brought Todd back full-circle to his earliest musical and radio days, with the arrival of the RETRO FUTURA Tour in Cleveland. Prior to the late August event, Todd and the RL team worked for two solid months conducting interviews with the entire line-up of the tour, including previous RL guests Howard Jones and Midge Ure, along with Katrina (ex Katrina & The Waves), China Crisis, and Tom Bailey (of The Thompson Twins) who hadn't been on the road in almost three decades. The combined interviews made up for an audio tour book presented over the weekend prior to the tour arrival and as a Running Late special. Three years later, the 2017 edition of Retro Futrua arrived, and again the RL crew produced a three-hour program with interviews from every band on the bill.

The spring of 2015 (and again in 2016) saw Todd and several WBWC students return to NYC as finalists for three Intercollegiate Broadcasting System (IBS) Awards. His students also presented at each convention. Something he hopes to have an on-going tradition. Todd couldn't be prouder.

Must be getting early, clocks are running late
"Touch Of Grey"
-The Grateful Dead

Todd continues to be amazed at his radio opprotunity. "Running Late and it's brand continue to thrive - against all the changes in the broadcast world. I used to worry that interviewing all these artists, even becoming friendly with some of them, would ruin the magic that is music, performance, even radio itself -for me. Instead, it has deepened my appreciation for the craft involved in each. When's the next show?!"
(that answer is - In 2018, Todd will be heading up the 60th Anniversary programming for WBWC.)

Todd credits the great people in the business as one of the things that keeps him going. "The work in broadcasting can be very cut-throat at times. I've found the best aspect to survive is in the very talented and creative people you get to meet along the way. I'd be nowhere without Mike-on-the-mic, JtotheE, Dawners, Kroth, Matt Slys, Tom L., Steve Dole, Mike Novak , Joe T., Dolci, Rowbear, Goosh, Obi Wan, KT, Sal, and all the others. To them, I say hello, and thanks."

"...wait for me I'm running late....always..."
"Always"
- U2